20 Center Street
East Granby, CT 06026
PHONE 860.413.3334
FAX 860.413.9921
Mon, Wed, Fri: 9:00 – 1:00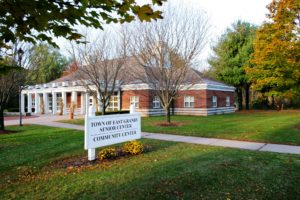 MISSION STATEMENT / WHAT WE OFFER
The Senior Services department provides seniors in the community with a wide range of programs and services in the areas of wellness, education, socialization, and recreation.  Our goal is to help seniors maintain their independence and continue to be active members of the community.
Under the auspices of Senior Services we offer transportation with our Dial-A-Ride program. The twelve passenger, wheel-chair accessible, Mini-Bus provides trips to medical, dental, and personal care appointments as well as shopping venues, grocery stores, banks, library, post office, and community events.
Directions to the East Granby Community Center from I-91 North
Take 91 North to Exit 40-Bradley International Airport/East Granby/Granby/Route 20
Continue on Route 20, following the signs for East Granby/Granby.
At the 5th traffic light take a left onto South Main Street (you will see a large stone church on your right).
You will then take your first right onto Memorial drive.
The Community Center is the second building on your left (after the Police Building).
Senior Mini-Bus Reservations
Call 860-413-3327 at least 24 hours in advance. Your reservation will be recorded on the voicemail system and a driver will call to confirm your appointment.
There is no charge to use the Mini Bus but a semi-annual donation of $20.00 is greatly appreciated.
Mini-Bus Schedules
Resources
Links
Good Samaritan Program