20 Center Street
P.O. Box 1858
East Granby, CT 06026
PHONE 860.413.3334
FAX 860.413.9921
Mon, Wed, Fri: 9:00 – 1:00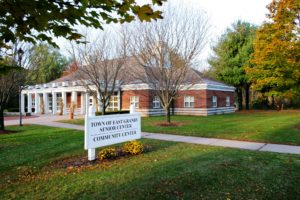 MISSION STATEMENT / WHAT WE OFFER
The Senior Services department provides seniors in the community with a wide range of programs and services in the areas of wellness, education, socialization, and recreation.  Our goal is to help seniors maintain their independence and continue to be active members of the community.
Under the auspices of Senior Services we offer transportation with our Dial-A-Ride program. The twelve passenger, wheel-chair accessible, Mini-Bus provides trips to medical, dental, and personal care appointments as well as shopping venues, grocery stores, banks, library, post office, and community events.
Directions to the East Granby Community Center from I-91 North
Take 91 North to Exit 40-Bradley International Airport/East Granby/Granby/Route 20
Continue on Route 20, following the signs for East Granby/Granby.
At the 5th traffic light take a left onto South Main Street (you will see a large stone church on your right).
You will then take your first right onto Memorial drive.
The Community Center is the second building on your left (after the Police Building).
Senior Mini-Bus Reservations
Call 860-413-3327 at least 24 hours in advance. Your reservation will be recorded on the voicemail system and a driver will call to confirm your appointment.
There is no charge to use the Mini Bus but a semi-annual donation of $20.00 is greatly appreciated.
Mini-Bus Schedules
Grocery, Pharmacy & Banking: Wednesdays.
Doctor, Dentist, Hairdresser & Personal Care Appointments:
Every Tuesday and Thursday,
9:00 am to 3:00 pm
Appointments should be scheduled no later than 3:00 PM.
Retail Shopping and various trips: Every Monday and Friday.
Resources
Links
Good Samaritan Program
An important goal of this program – "Good Sam" for short, is to help Town residents who are elderly or disabled to stay in their home. They may be alone, have physical or financial difficulty with maintenance, or do not know about other resources or options that may be available.
We also hope to increase volunteer support for our schools, library, government or other needs as they are identified. There will be a special focus on asking those in manual trade professions, diverse businesses, medical and government workers and retirees to find ways to share their experience with high school students.
To fill these needs, we hope to:
· Utilize our senior population and others, plus students in completing community service requirements.
· Provide a mechanism for continually matching needs with volunteers.
· Publicize the needs in every possible way.
Longer term goals will be to:
· Make a really nice town even better!
· Develop a unique and noticeable program that may have many seniors, but not limited to seniors.
· To succeed, it will take a contagious spirit! Please help us begin to build a Volunteer Bank by giving us your name and ideas by phone or email.
For more information please contact Elise Cosker at (860) 413-3328   elisec@egtownhall.com or Kelly Jacobs (860) 413-3334  kellyj@egtownhall.com